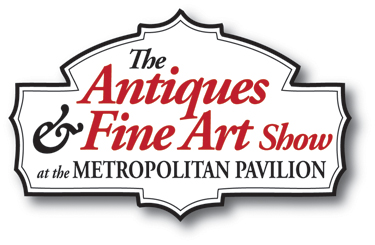 SHOW BOOKLET ADVERTISING

THE ANTIQUES & FINE ART SHOW AT THE METROPOLITAN PAVILION NEW YORK CITY
December 9, 10 & 11, 2011
Fri: 12-8, Sat: 10-6, Sun: 11-5
Expose your business to Exhibitors and thousands of attendees with an interest in Antiques, Jewelry and Art! THE ANTIQUES & FINE ART SHOW Directory is a critical tool in promoting your company before, during and in the months following the Show. The directory, distributed to all show attendees is the most effective way to get your company's name in front of buyers who will attend the show. Thousands of Antique, Art & Vintage lovers will see your business displayed.
We are now accepting orders for the 2011 show directory book. Deadline to order and submit an ad is November 10, 2011.
Download the advertising order form by clicking here.
Artwork must be submitted in PDF files.
Sending Artwork: Your ad material can be sent to our Booklet Advertising email. JMKAdvertising@aol.com Please include "New York Ad" in the subject line along with exhibitor name.
Design Services: Would you like to place an ad, but are unsure where to begin? Graphic design services are available starting at only $100 per ad. Additional fees may apply with more than 3 revisions (AA's). Please send your text, logos and any photos you want to include in your advertisement to Debbie Turi. Please include NEW YORK AD in the subject line to ensure the email will be received. Should you h ave any questions regarding design services, please contact Debbie at dturi1@verizon.net or call 973-618-0923
Advertising Rates (All rates are based on four color ads)
Full page
(5 1/4 x 8 1/4)
$ 800.00
Half page
(5 1/4 x 4 1/8)
$ 450.00
One Third page
(5 1/4 x 2 3/4)
$ 300.00
Outside Back Cover
(full page)
$1,500.00
Inside Front Cover
(full page)
$1,500.00
Inside Back Cover
(full page)
$1,200.00
For more information about the show directory please contact:
Allison Kohler at 973-927-2794 or
email JMKAdvertising@aol.com